Welcome to the first entry in a series of feature highlights and periodic updates of all things Tadabase. We're eager to keep our users in the loop with everything going on behind the scenes at Tadabase, and we want to share it all with you and keep you informed on a regular basis.
In this series, we'll explore new features and developments, as well as previously released features. We'll also highlight our rapidly growing collection of template apps to explore all the different ways thousands of businesses are using Tadabase to accomplish their goals with the easiest and most powerful no-code database builder.
We love feedback from our users. If there's anything posted here that you'd like to learn more about or discuss, please email us at support@tadabase.io or chat with us directly on our site.
Now lets get to our first feature highlight where well discuss some pivotal Tadabase features including:
Login Functionality and Defined User Access
White Labeling
Custom Domains and SSL certificates
Custom emails for forgotten password resets
Keep reading to explore each feature with us!
Login Functionality and Defined User Access
One of the fundamental values that sets Tadabase apart from the standard data management tools on the market is the level of security and data privacy embedded within the infrastructure and design of our platform.
Rather than simply managing your data, Tadabase safeguards your data. Providing a secure, centralized database where each user's data access is defined and varied from the next user based on user role, job capacity, logged-in status, or any other criteria you wish to set.
With role-based user access, role-based login and logout routes, and unique login portals, users will access only the data and workflow prompts they need to succeed in their particular roles.
To learn more about maximizing Tadabase's powerful login and user access functionality, please explore our extensive support documents linked below.
What are Roles?
Securing Pages
Login Component
White Labeling
Another feature that sets us apart from the competition, is the extent to which we empower our users to fully customize and brand their apps. We don't just want our users to white label, we want our users to own their apps.
In practice, this means that you can not only replace all Tadabase branding with your business colors, logo, email address, and overall branding, but you can also count on there being no reference to Tadabase anywhere throughout your app.
Let's say you were building an app for a client, your app will present entirely as if you built it from scratch, from internal code to external interface and throughout.
Custom Domains and SSL Certificates
Another way we prioritize the flexibility and customization of your app is with the ability to replace the default Tadabase subdomain with your custom domain name. Once you choose a custom domain, we ensure the security of your domain by issuing a custom SSL certificate free of charge.
Making it fast and easy for our users to customize and secure their domains was a strategic choice for us in helping users get their apps up and running as quickly as smoothly as possible.
For more details on creating custom domains, check out the link below.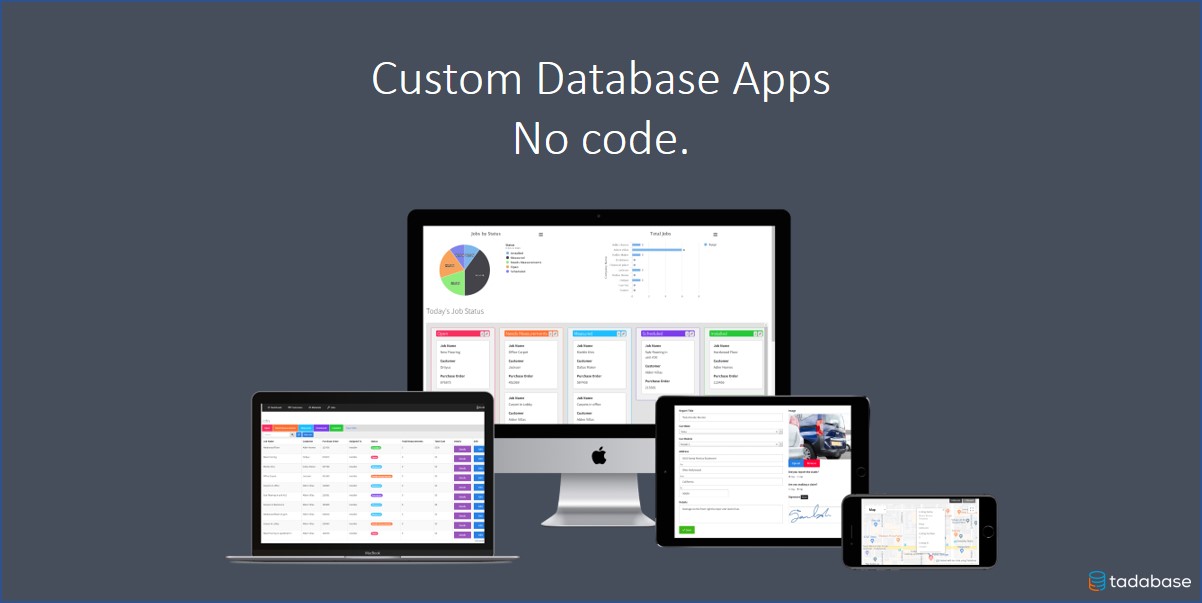 Custom Forgotten Password Reset Emails
While we're incredibly proud of our extensive login functionality features, forgotten passwords are a pesky side effect that unfortunately comes along as a package deal. Millions of people forget their passwords every day, we know this. To make it easier for our users to navigate this issue, we aimed to create simple, streamlined solutions.
With custom forgotten password email templates, you can send an automated, yet personalized email to users when they forget their passwords, enabling them to easily reset their passwords with custom verification codes.
You can even customize the password reset message within each email to each user.
---
Thank you for sharing in our journey and stay tuned for more updates and feature highlights coming soon! As always, happy building!